System requirements: OS X 10.13 – 10.15, 64 bit CPU (click here to find out if your CPU is supported).
Profex-4.3.0.dmg.zip (43 MB)
COD database: cod-210114.zip (219 MB)
The bundle contains Profex 4.3, BGMN 4.2.23, a set of instrument configuration files, some crystal structure files, and user manuals for Profex and BGMN. BGMN and related files are bundled with kind permission of the BGMN development team. For source code and further information, please visit http://www.bgmn.de.
Support for OS X 10.6.8-10.12
Bundles for systems older than 10.13 are no longer available. The last versions running on these systems can be downloaded at the bottom of this page.
Installation
Extract the ZIP archive to your local hard disk and mount the extracted disk image.
Copy the folder Profex-BGMN to your hard disk, e.g. to Applications:

Enter the folder Profex-BGMN and drag the file Profex to your preferred location of app shortcuts, for example to the dock: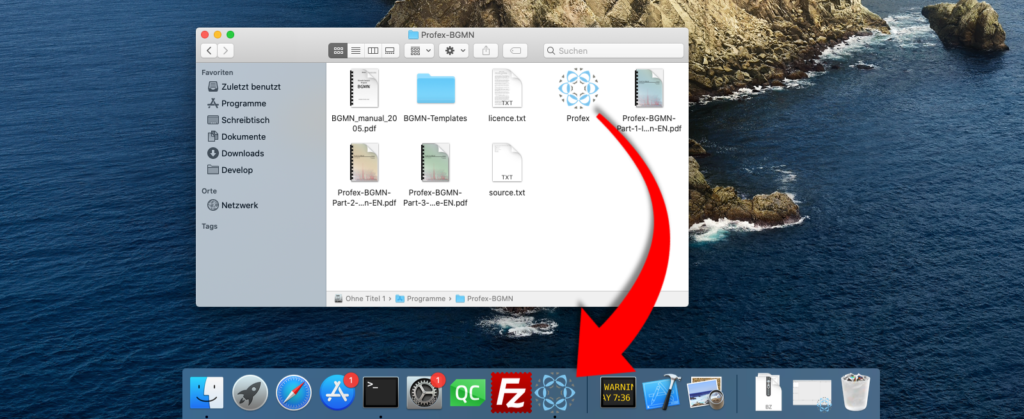 Known Issues
Unidentified developer warning: Profex is currently distributed as an unsigned app. OS X gatekeeper may prevent you from running it. To run it anyway, proceed as follows:
Right-click or Control-click on the Profex app.
Select "open" from the menu.
In the warning dialog, select "open" again.
OS X will remember the setting and not show the warning anymore.
Previous releases
OS X 10.13 and newer: Profex-4.2.5.dmg.zip (38 MB)
OS X 10.11 and 10.12: Profex-4.1.1.dmg.zip (37 MB)
OS X 10.9 and 10.10: Profex-BGMN-Bundle-3.14.3-oldmac.dmg.zip (34 MB)
OS X 10.6.8 to 10.8: Profex-BGMN-Bundle-3.10.2-oldmac.dmg.zip (36 MB)